Daniel Thomann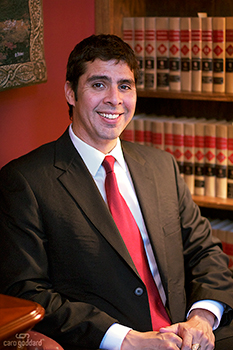 I spent my childhood in Buenos Aires, Argentina, and Montevideo, Uruguay until moving to Kansas City, MO with my Argentine family in 1991. While living in Missouri I earned a Bachelor of Arts in Spanish, with minors in Political Science and General Communications, from Truman State University, in Kirksville, MO, and a Juris Doctor from the University of Missouri-Columbia.
As a law student, I focused my energies on the study of International Law, earning the CALI Excellence for the Future Award in the field, serving as International Law Society President, and participating in the Regional Rounds of the Philip C. Jessup International Moot Court competition in 2002 and 2003. Throughout my studies I also worked at a North Kansas City law office, mainly in the areas of criminal defense and civil litigation and volunteered as an online researcher for Lawyers Without Borders.
Following graduation, I was part of an NGO delegation to the United Nations in New York for work relating to the International Criminal Court, worked as a legislative analyst with the National Biodiesel Board in Jefferson City, MO, and moved to Chicago in 2004 to work as a Community Organizer with the Illinois Coalition for Immigrant and Refugee Rights. I have remained in Chicago since, working as a Union Representative for the Service Employees International Union (SEIU), and as a Political Consultant on state and local campaigns before deciding to return to the active practice of law.
A dual citizen of the U.S. and Switzerland, I spent the latter part of 2007 as a temporary attorney in Brussels, Belgium. Upon my return to Chicago I worked as an associate at a law office in Little Village, where I was responsible for a diverse caseload in state, federal and administrative courts on matters of immigration, civil litigation, and criminal and removal defense. In January of 2009 I decided to start my own practice and formed Daniel Thomann, P.C.
I am a member of various professional organizations, including:
• the American Immigration Lawyers' Association (AILA)
• the Chicago Bar Association (CBA)
• the Illinois State Bar Association (ISBA)
• the Missouri Bar Association (MoBar)
• the American Bar Association (ABA)
I am also active in various volunteer and community activities in the Chicago area, and established and have directed the Chicago Alliance for the International Criminal Court since 2005.
I am admitted to practice law in:
• Missouri
• Illinois
• the 7th Circuit U.S. Court of Appeals
• the Missouri Bar Association (MoBar)
• the U.S. District Court for the Northern District of Illinois (General Bar)
I am also able to practice before the Executive Office for Immigration Review (EOIR) and the Board of Immigration Appeals (BIA). My practice outside of Illinois is limited to immigration matters, where such practice is permitted by the bar of the state in question.
The links to the left will provide you with more information about Daniel Thomann, P.C. We invite you to navigate them, and to contact us for a free initial consultation about your case.